May 2010:
Where is the outrage over the 118,000 people who died on Indian roads in 2008 alone [the last year of available figures] and what's being done about it?
The reasons, the New York Times has pointed out in a story (India steadily Increases its Lead in Road Fatalities) are not far to seek:
While road deaths in many other big emerging markets have declined or stabilized in recent years, even as vehicle sales jumped, in India, fatalities are skyrocketing - up 40 percent in five years.
A lethal brew of poor road planning, inadequate law enforcement, a surge in trucks and cars, and a flood of untrained drivers have made India the world's road death capital. As the country's fast-growing economy and huge population raise its importance on the world stage, the rising toll is a reminder that the government still struggles to keep its more than a billion people safe.
Evidence of road accidents seem everywhere.
Highways and city intersections often glitter with smears of broken windshield and are scattered with unmatched shoes, shorn-off bicycle seats and bits of motorcycle helmet. Tales of rolled-over trucks and speeding buses are a newspaper staple, and it is rare to meet someone in urban India who has not lost a family member, friend or colleague on the road.
The dangerous state of the roads represents a "total failure on the part of the government of India," said Rakesh Singh, whose 16-year-old son, Akshay, was killed last year by an out-of-control truck in Bijnor, in the state of Uttar Pradesh, as he walked along a highway to a wedding.
The NYT accompanied its report with a video titled, pithily, India's Highways of Death while a WHO report on road safety makes for scary reading.
The government has responded as governments traditionally do - by setting up committees.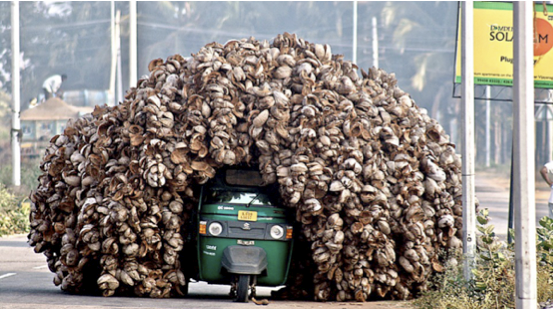 Hazard ahead: Coconut-loaded rickshaw. Pic: Daily Mail, London.