One Way or Another
---
One Way or Another is a collection of topical accounts and anecdotal short stories from Richard Meredith in his Balding Backpacker travelogue series.
With his reporter's notebook, wicked sense of humour and a healthy disrespect for authority, the intrepid middle-ager goes walkabout in this crazy world of ours and falls into a whole heap of adventures (and misadventures).
During a year-long globetrotting tour he is witness to George W. Bush's non-election as American President, is tear-gassed in anti-globalisation riots in Canada, bag-napped in Argentina, sung to at the Sydney Olympics and survives an outback safari with four single women.
The book is illustrated throughout and includes a section on recommended places to stay, eat or visit and a miscellany of "bizarre, unusual and even interesting" information from around the world.
USA
---
George W's first big battle
Up the Twin Towers in New York ... a prophetic vision?
Life with the hungry and homeless in the richest place on Earth
Australia
---
Shooting the rapids in boats with a death-wish
Why (right) the Olympic ladies volleyball final was won ... by a man.
Tales of the Outback: Nights down under with 4 single women
Canada
---
How rioting against Big Business shattered the Nation of Peace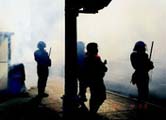 When a railway kept the Americans from invading
What they are saying
---
"I read One Way or Another with a mixture of admiration and envy" –Colin Barrow, UK author and university professor.
"An astringent alternative to Bryson" –Brian Bollen, UK author/editor
"I simply couldn't put it down" –Charlotte Blair, TV continuity advisor, Kew Green, London.
"Richard's walkabout proves perfect fodder for an amusing and thought-provoking collection of anecdotal stories" –Writers News
"I'm enjoying the book - you have quite the quintessential English wit..." –Katrina Barclay, Canada
"I'm thoroughly enjoying it. I find it has rekindled my wish to go off traveling again..." –Alan Frost, Charles Schwab (Europe).
"It will surely leave some readers, with their wanderlust aroused, wondering: Could I? Should I? And if not now, when?" –Joan Riley, Absolute Write (USA)
"Could you let us have a copy." –Mary Hogarth, Writers International, "and us too," –Mary Moore Mason, Essentially America magazine. "..and us," –Leon Kreitzman, SeeHowTheyGrow Publications.